Burned some Alaska Airlines miles to fly to Portland (Oregon) to visit with Alec, Zack and Owen and Kerry.
Really fun trip. Stayed with Alec in the Enso Apartments building in the Pearl district.
Wrote to the KBYG folks about some scheduling, Sharon asked if they were gonna lose us to Portland. I wrote:
I don't think it'll be Portland, we're told the weather is like this way more of the year than Petaluma, but.. we're staying in a 5 story building, it's one of the lower buildings in the neighborhood. I'd need to find a place to practice my arpeggios, but aside from saying "hi" in the hallways we're not aware of our neighbors above, below, and to one side. Grocery store across the street (our host says "yeah, I generally don't have much in the fridge because..."), coffee shops and other amenities walking distance, and, sure, you can't get "into nature", but while out for a coffee this morning I stopped and sat for a bit in Tanner Springs Park: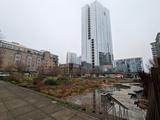 Image:2023-03-29TannerSpringsPark.jpg
Even out in the 'burbs, I'm not sure if this auto lane is 9' or 10', but this is one of the major grid streets, so maybe B St or Mountain View equivalent, note the speed humps and the kid on the bike: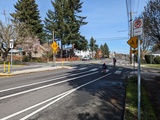 Image:2023-03-27CyclingAmenities.jpg
And full 6' sidewalks, with all of the utility furniture in the verge, so you can actually walk around the block side by side.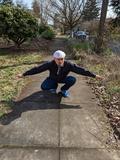 Image:2023-03-27DanIndicatingSidewalkWidth.jpg
I haven't uploaded the picture of the 20MPH speed limit neighborhood greenway signs, with the 15MPH lawn signs, but there's a sloth image that's gonna get riffed on when we have the safe streets walk and bike to school sign painting party at the end of April....
The thing that being downtown *is* making me super conscious of is how freaking loud cars are, and how we need to get that under control. Need to dig out some of those papers tying background noise to dementia for our discussions on the externalities of automobiles. But some of these streets that have been effectively woonerfed into parking and outdoor restaurant seating are wonderful.