Event Recap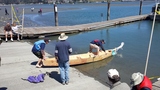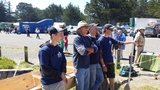 The Bodega Bay Wooden Boat Challenge is in my blood now. In various incarnations, although we've now settled on "Team Dog Slobber", Tom Segura and I, and two other team members who've changed over the years, have won it in 2011, 2012, 2013 and 2014. So I was totally open to the idea that it might be time to give someone else a chance. This year, as we were contemplating who to invite, two high schoolers, Brendan and Denny, were suggested to us. Although Tom and I are still pretty competitive, we decided to let them race. We built the boat we've evolved to build, quickly and smoothly, with Tom and me doing most of the cutting...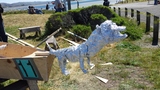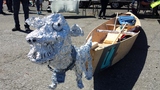 One of the introductions last year was the "mystery material". Incorporate it into your boat. Best incorporation wins a prize. I suggested a half-hearted figurehead, but the kids started going with the dog theme, and then... and then they went over the top. Using screws for teeth totally sold it, turned it from "cool" to amazing. And we won that category.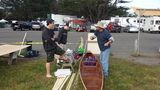 The kids were powerful paddlers, but had no control, so although they were quite fast they weren't much in the velocity department, and came in 4th overall. But we had fun, and super congratulations to team Totally Screwed, who deserved their hard fought win.
And a huge thank-you to everyone who made this year amazing yet again. From the organizers to our fellow competitors to the wonderful people who came by to see us play, we enjoyed all of you, and had a blast.
Slideshow from elsewhere:
Flying Monkey Claw has a great video of their experience.
Category:Bodega Bay Fisherman's Festival Wooden Boat Challenge Category: Dan Lyke life
2014 Fisherman's Festival Allocations
Stewards of the Coast & Redwoods
Rancho Bodega Historical Soc.
Bodega Bay Firefighter's Assoc
Bodega Bay CERT (Community Emergency Response Team)
Bodega Marine Sciences Assoc
Bodega Volunteer Fire Dept.
Bodega Bay Area Chamber of Commerce
Bodega Bay Community Assoc
Bodega Bay Grange
Bodega Bay Parent Coop
Bodega Bay Elementary PTA
Bodega Land Trust
Fisherman's Marketing Assoc
Free Bookmobile of Sonoma
Redwood Empire Foster Parents
Bodega Bay Church
Tomales Elementary PTA
Tomales HS Close-up
Tomales High School FFA
Tomales HS Project Grad
Tomales HS Sports Program
US Coast Guard Aux
Valley Ford Volunteer FD
Our Awesome Sponsors
Active Sports Club
Aqus Café
Ace Hardware Guerneville Rd
Bluewater Bistro
Bodega Bay Firefighters
Bodega Bay Surf Shack
Blue Water Kayaking
Boat House
Bodega Bay Kayak
Burgess Lumber
Candy and Kites
Cheda's Garage
Cork's Restaurant
Cowgirl Creamery
Gourmet au Bay
Dan the Barber
Dinucchi's
Five Books Ranch
Greenbridge Gas & Auto
Flamingo Hotel
Hog Island Oyster Co,
K & A Take Away
Lagunitas Brewing
Marshall Store
Mead Clark Lumber
Northern Light Surf Shop
Osteria Stellina
Outdoor Pro Shop
Palace Market
Pine Cone Diner
Point Reyes Vineyards
Point Reyes Blue Cheese
Redwood Café Cotati
Saltwater Oyster Depot
Sports Basement
Spud Point Crab Company
Stationhouse Cafre
Strauss
Taps
Toby's Feed Barn
Tomales Bakery
Tomales Diekmann's
Tony's Seafood
Valley Ford Market
Water Treks ECO Tours
William Tell House
Kathy Sparkling - Artist
Kim Daniels - Artist
Marshall Scaffold